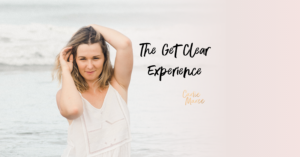 An epic online experience to get you crystal clear on who you are and what you're here to do.
This is for you if:
You want to work with me but not sure you're 'ready'.
You haven't had the budget to jump into any of my bigger programs yet.
You're not quite clear on what you want to do.
You know you want to help people, leading them somehow, but you don't know how to describe it.
You get:
6 of my most potent and powerful video trainings on clarity, leadership, your message, your mission, your gifts and your vision.

1 live group training + Q&A session
1 live hotseat coaching session
Forever access to all recordings.
You have work to do in this life. People need the magic you have to offer. Let's get it out of you and into the world.
Live sessions happening first week of Nov. Schedule will be posted inside the group. If you miss them you'll have the recordings.

Let's do this.